Whether you're a DIYer with a major renovation project coming up or a contractor setting up a work site, dumpster rental can be an easy, affordable way to handle debris of all shapes and sizes. At Regional Dumpster Rental, we offer dumpster services in addition to our junk hauling options, providing you with the customizable solutions you need for your specific trash removal needs. Our dumpster rental services are particularly effective for projects when waste is generated over the course of days or weeks or if you have a large amount of debris that needs to be collected. Providing convenience and low cost for your next project, our dumpster services can take the mess and stress out of construction demolition, renovations, and more! For more information on pricing, sizes, and how Regional Dumpster Rental can serve you, please feel free to contact us by phone or e-mail today.
At Regional Dumpster Rental, our roll-off dumpster rentals are available in 10-, 15-, and 20-yard sizes, so regardless of the scope of your project, we should have a dumpster that's the right size for your needs. Instead of trying to bag large items or spending hours making trips back and forth to the dump, our dumpster rentals enable you to easily collect all of the debris from your project or property cleanout in one place. And best of all, our team takes care of the transportation and disposal when your dumpster is full. Ideal for construction sites, home renovations, or just large trash removal projects, our dumpster rentals can take rubbish from roof shingles and concrete to yard waste and accumulated household garbage.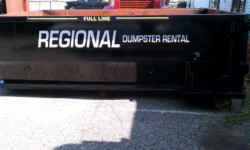 Call Regional Dumpster Rental for projects such as:
Home remodeling
Construction
Estate and foreclosure cleanouts
Rental property cleanups
Demolition services
Yard waste cleanup
Roofing replacement
And many others!
Helping make cleanup convenient, both during and after your project, our dumpster services are a simple solution for collecting and hauling away debris of all kinds. And with our fantastic customer service and cost-effective pricing, you can count on Regional Dumpster Rental to provide you with great value on dumpsters large and small. Make your roll-off dumpster rental experience straightforward and hassle-free: contact our team today to learn more.
At this time, Regional Dumpster Rental does not provide weekly garbage removal services. We apologize for any inconvenience this may cause.